Jasper's Motorcycle Friendly Hotel
Many hotels may say that they are motorcycle friendly. But we feel that it takes a rider to know what it means to have a place to stay that is not only a motorcycle-friendly hotel but also offers lots of little extras too. Our hotel owner is an avid rider and has helped curate some of the touring itineraries listed below.
Top 5 Day Motorcycle Tours in Jasper, AB
Jasper National Park is a destination for many visitors to the Canadian Rockies and should be more than just a one night stop-over. Not unlike the Black Hills in South Dakota, Jasper National Park, Canada offers many great winding roads for day rides.
Chad, the hotel's owner, is an avid rider and has been on countless road trips throughout western Canada and the USA. It is through these experiences that he is pleased to offer fellow riders a safe Jasper Motorcycle Hotel with the little extras that makes for a great Canadian Rockies motorcycle road trip.
Chad has put together his two loves – Jasper and Motorcycles in a special map that showcases Jasper National Parks motorcycle day trips – Motorcycle Tour Map. On here you will find a number of routes highlighted with Rocky Mountain cigar breaks as well as recommended lunch stops.

Motorcycle Amenities at the Mount Robson Inn
Upon check in we provide a microfiber cloth for cleaning the bugs and road grime
Washing station with a hose and bucket
Hotel offers a guest laundry to clean up the few clothes you were able to pack
Two outdoor hot tubs will help get rid of the saddle sores
Local pubs and restaurants are a 10 – 15 minute walk. Dining recommendations are available at the front desk or you can login to the Internet at the Front Desk to check on local restaurant specials
Best of all, the Inn is configured in a motel accommodation style so you can usually park in front of your room or suite or somewhere near
A garage is available for rent should you feel the need for greater security. Please ask at the time of making your hotel reservation
The onsite restaurant serves free breakfast for all hotel guests and we are happy to make dining recommendations for lunch, dinner or to go meals.
Looking to rent a motorcycle for touring?
If you are interested in riding the Rocky Mountain routes of Jasper National Park, Banff National Park and area but don't have a bike, Jasper Motorcycle Tours rents bikes to experienced riders.
Guests staying at the Mount Robson Inn will receive 15% all two day motorcycle rentals. In turn, when you rent two days from Jasper motorcycles you will receive 15% off your stay at the Mount Robson Inn or Mountaineer Lodge in Lake Louise, Alberta. Show your receipts and take us up on these special offers.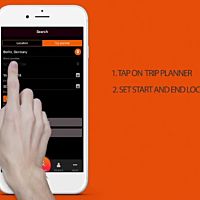 Motorcycle Events App
With IdeasMotors mobile app you will find more than 50,000 motorcycle events around the world. Users can easily plan their own routes, enter the starting and ending location and date, swipe the dynamic map and choose between events around parties, parades, rallies, exhibitions, and more.
Let Us Know
We are a safe hotel accommodation in Jasper for your Canadian Rockies motorcycle tour. We will do all we can to make your ride special and more enjoyable. If you have any suggestions for further services we can offer please let us know.